What is SEO?
The ultimate goal of SEO (Search Engine Optimisation) is to improve a website's search engine rankings. Ideally a marketer's aim is to get their company's website to rank No.1 on any search engine as this allows them to earn more website visits. Sounds easy right?


However, in order to be ranked number 1 on any search engine, SEO best practices need to be incorporated into the SEO strategy. There are a million different ways to incorporate SEO on a page but before any changes are made, it's important to get the basics right. This article breaks it down.
1. Choose the correct SEO keywords
It is crucial to define which keywords the page should rank for. In most cases, it will be the product or service that the brand is trying to sell. In order to find the perfect keyword for a website, the best way forward is research, research, research.
Keyword research is a vital part of an SEO strategy. When marketers know what people are searching for within their field, they can optimise content around these keywords. By doing so, websites or pages will potentially rank higher.
Another thing to avoid is having a website show up for the wrong keywords. This will lead to a low search intent and a high bounce rate. Search engines take high bounce rate websites as irrelevant and as a result the website will appear in the lower sections of the search page.
How to find the best SEO keywords
When looking for the right keywords, it is important to look at the search volume and competition. It can be almost impossible to rank for very competitive search queries like "performance marketing", as it is such a generic term that everyone wants to rank for. It might be possible but would take years to achieve.
Instead of using a competitive keyword, a better SEO strategy would be researching long-tail keywords. These consist of three or more keywords put together in a sentence. They often have a lower search volume and competition but as they are more specific, there will be a higher chance of your audience converting or clicking on a brand's webpage due to higher relevance.
Long-tail keywords are also becoming more relevant as people are using voice search, where they will often say a whole sentence instead of just one word. Fortunately, Google and other platforms have made it easy for us to find these long-tail keywords. Below are the two platforms you can use to look for long-tail keywords: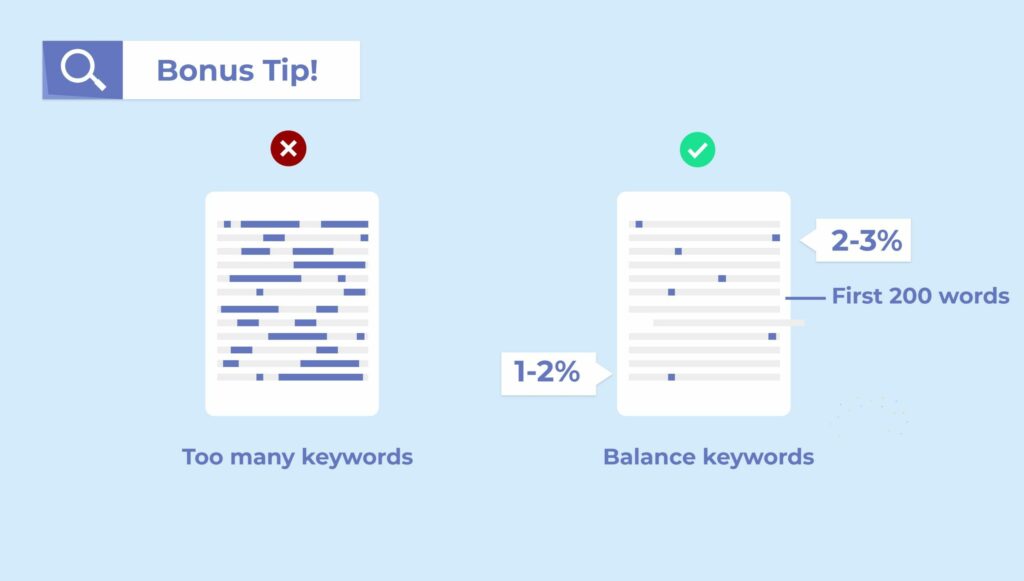 For the first 200 words of the page keep the keyword density at around 2-3%. For the remaining content, the keyword density should be around 1-2%.
This will make it easier for search engines like Google to identify the topic and rank the page higher. However, avoid stuffing text with keywords as it will appear unnatural and unattractive to readers.
It is important to hit the right balance with the number of keywords in the content. If there are too many keywords — also known as keyword stuffing, search engines will lower the ranking of the page. On the contrary, if there are insufficient keywords, search engines are unable to understand what the website is about.
2. The importance of Headlines in SEO strategy
Headlines are more important than generally thought. Attractive headlines are what compel readers to click on an article. However, headlines should also resonate with the search engines' algorithms so that they prioritise the page for a higher ranking. This applies to both the main headline as well as the sub-headlines throughout the article.
Practice using persuasive adjectives while crafting headline copy. The catchier the headline is, the higher the Click-through Rate (CTR) will be. Just be careful that it's not misleading.
A few examples: 
10 Free Tips to…
5 Amazing Ways to…
7 Awesome Tricks to …
20 Surprising things you didn't know about…
Great strategies to improve your business 2020
5 Easy ways to improve your…
An alternative strategy to create compelling headlines is to add numbers. E.g.: "Fastest Way to Write an Interesting Blog Post in 2020" or "9 Surprising Tips Every Writer Should Know".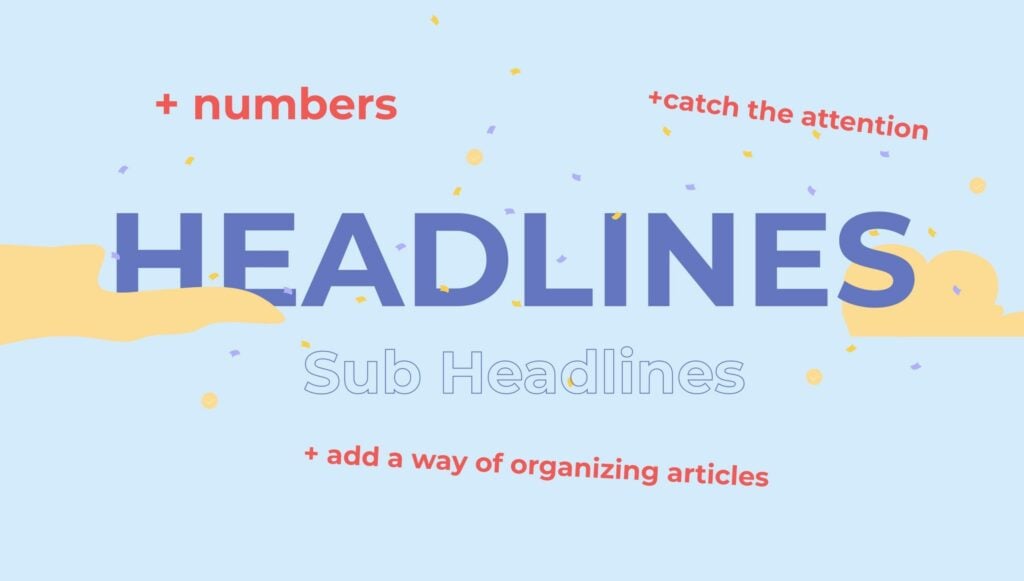 Optimise Headlines for SEO algorithms
The most important ingredient of an SEO-worthy headline is keywords. As search engines have a tendency to value the first part of a headline the most, the best practice is to begin your sentence with a keyword.
However, always keep in mind that content should be written to benefit the reader and not the search engines. So always follow common sense above the rules. If text is disjointed and stuffed with keywords, people will quickly leave the page as it is not relevant.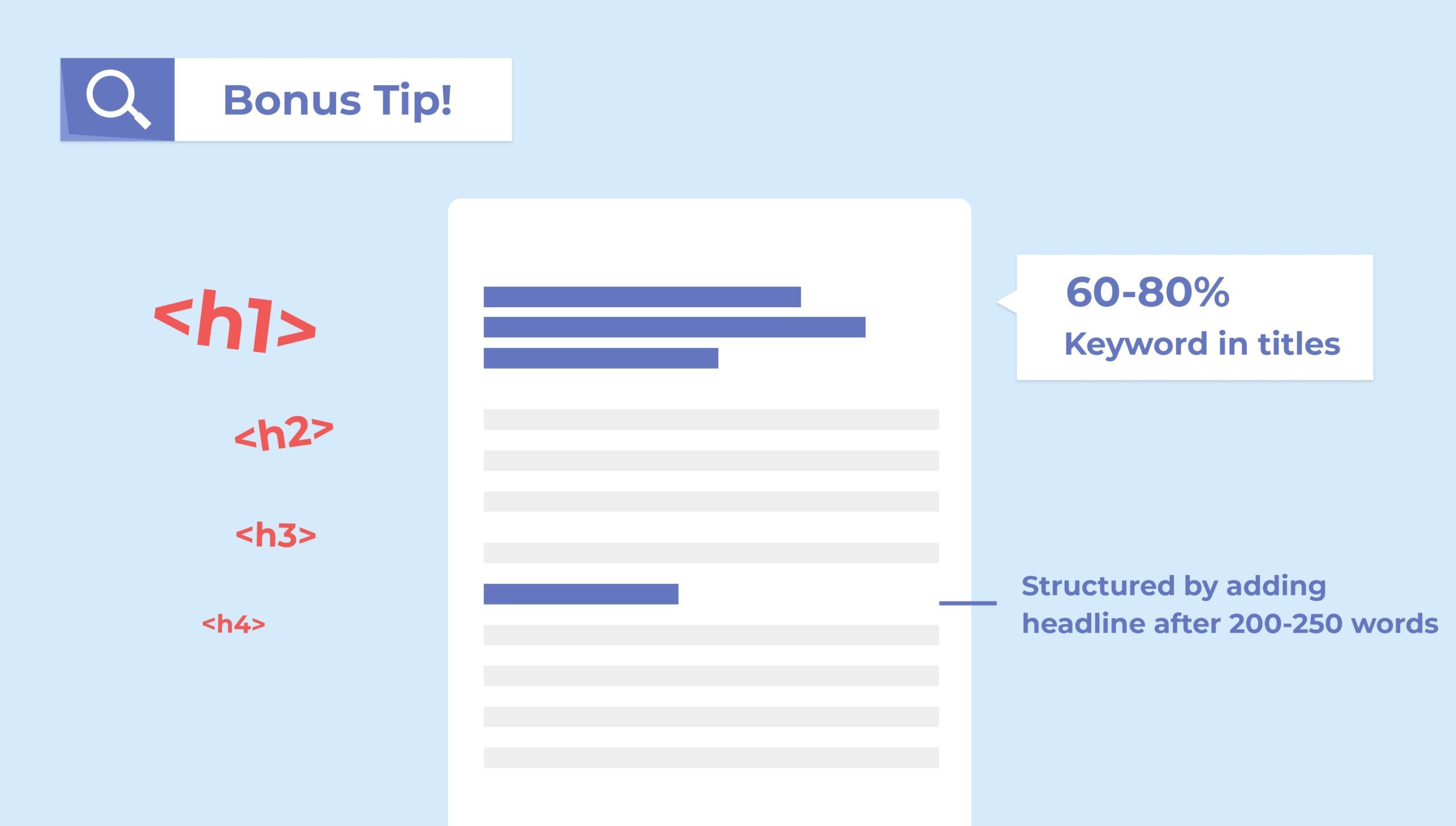 Use keywords in 60-80% (3-4 out of 5 titles) of the titles. Add a headline every 200-250 words for structure, and always have headlines in a natural order (<H2> always comes first, followed by <h3>, <h4> etc.).
When the search engine's algorithm ranks pages, it looks for a lot of different signals. Signals include headlines and the readability of the page etc. The order of the headline tags can help improve the position of a page for a particular keyword.
Furthermore, the keyword density rule applies to the headlines as well, and it is therefore important to find the perfect balance between keyword stuffing and not having enough keywords.
3. Body Content is Key for SEO Optimization
Although headlines are key in gaining a user's attention, the body content also needs to be appealing enough to keep readers engaged. If your content is unstructured and boring, people will instantly exit the page, leaving a sky-high bounce rate.
People have a tendency to only skim through a page, or they only tend to read the first sentence of each paragraph. So keep paragraphs short and concise.
It is important that pages are well-structured so that readers are intrigued. Remember to also disperse information in a way that is simple and readable. Luckily, there is an easy way to do this. Just follow the 3x3x3 method:
Have maximum of 3 paragraphs below one headline 
Have 3 rows in a paragraph
Have 3 sentences in a paragraph 
Do's and Don'ts for your Content
Above all rules and best practices comes high quality content. There is a huge amount of content all over the internet, so it is important to stand out. Publishing original, helpful content will help brands rank higher on any search engine.

Never duplicate content as this will not bring any new value to readers. This rule applies to everything on a brand's website including headlines, image alt text, category pages, etc.
Remember to always have the audience in mind while creating content. Content should resonate with an audience and it should be something they find interesting. If readers love the content, so will Google!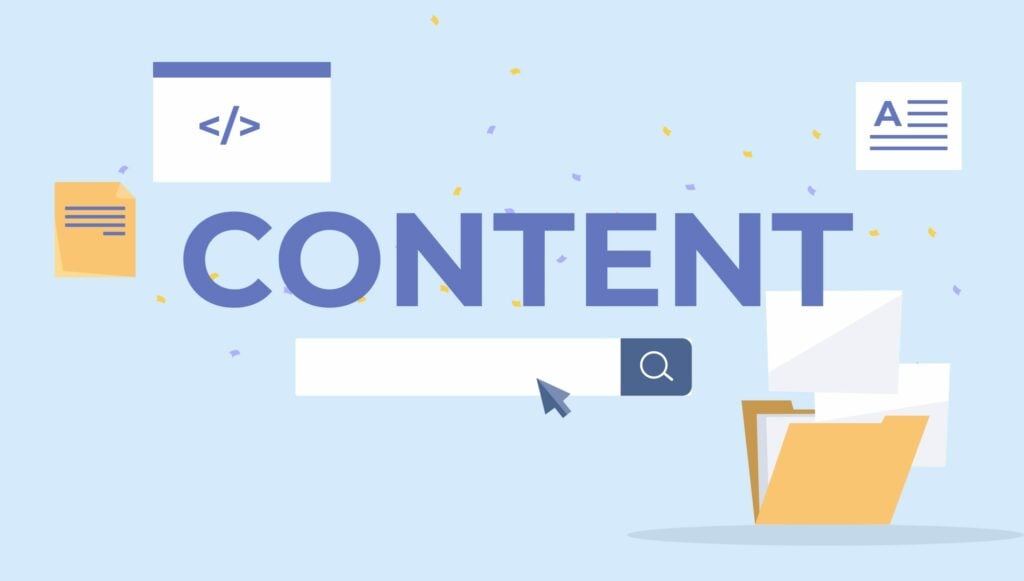 If you are interested in our SEO marketing services, we would be delighted for a quick chat.
Drop us an email at hello@admiral.digital.