When Malaysia's leading direct-to-customer mattress brand, Sonno, wanted to drive revenue growth, performance marketing enabled them to increase their weekly paid sales volume by 400%. 
When Southeast Asia's largest online florist, Flower Chimp, wanted to acquire customers for less, performance marketing enabled them to decrease their cost of acquisition by 43% and increase customers acquired by 171%. These real-life examples are just a glimpse into the power of performance marketing.
What is performance marketing?
Performance marketing is a digital marketing strategy focused on results. In traditional marketing, brands pay a fee for an ad placement on a TV channel or billboard with no real mechanism to judge its effectiveness other than estimated viewership.
With performance marketing, brands only pay when a specific and measurable action is performed such as clicking, filling out a form, downloading an app, and others.
Since advertisers only have to pay when an action is completed, performance marketing is one of the best bottom-funnel marketing strategies. Among the many platforms available, Facebook and Google ads are the two most widely used by performance marketers. The image below shows what their respective dashboards look like.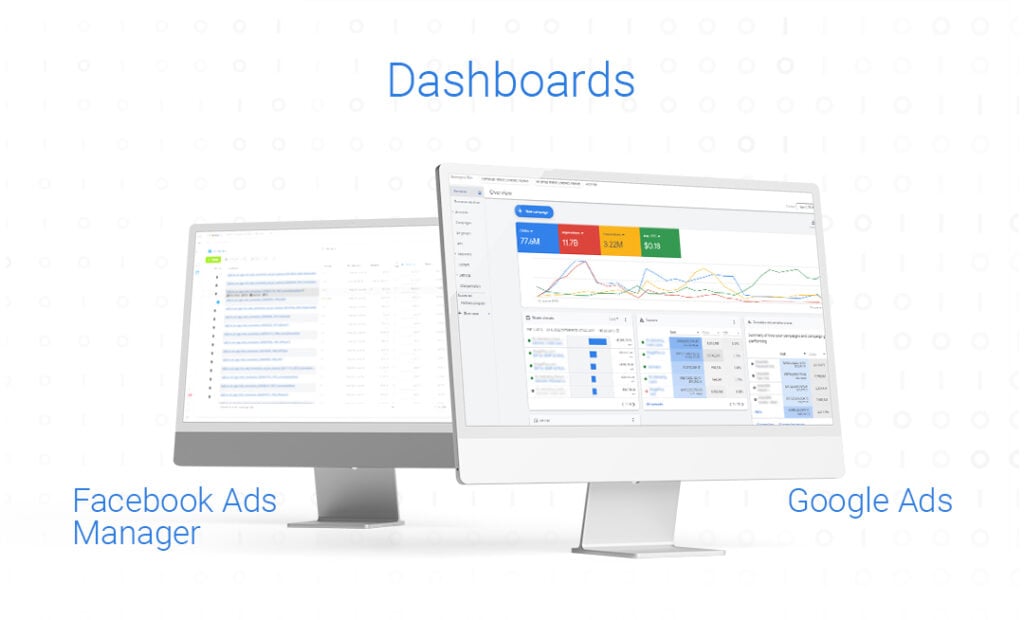 What are the benefits of performance marketing?
Here are some of the main reasons why companies are turning to performance marketing:
Tracks and measures ROI accurately

–

Advertising platforms such as Google and Facebook keep track of key performance metrics, which in turn allows advertisers to know exactly where their money is being spent. Data analytics tools also help interpret statistical data and equip advertisers with the information they need to tweak ads for better performance.

Broadens advertising ecosystem

–

Performance marketing campaigns allow ads to be placed with numerous publishers (e.g. a website that sells ads). By featuring ads in these spaces, brands are able to reach wider audiences as well as niche audiences that were previously difficult to target.

Accelerates bottom line growth

–

While most marketing initiatives involve top funnel strategies to raise awareness, performance marketing targets bottom line revenue. A well managed performance marketing campaign that drives leads and conversions will ultimately grow sales and revenue.

Allows ongoing optimisation

–

As campaigns progress, marketers are able to review performance metrics and adjust ads accordingly. Campaigns can be paused and tweaked, or more focus can be put on particularly successful ads. Ad management is often handled by digital marketing agencies by a dedicated performance marketing manager such as the capable ones at admiral.digital.
Who are the different stakeholders involved in performance marketing?
Advertisers

–

 A company that seeks to advertise its products and services to a target audience is called an advertiser. Advertisers set the goals of the campaign, provide the budget, and are the recipients of traffic and conversions. Advertisers bid for ad placements either by themselves or through agencies.

Publishers

–

 Website owners and operators that sell digital advertising are known as publishers. Advertisers flock to publishers that attract high traffic so that more eyes see their ads. It's best to advertise across a variety of channels in order to keep audiences engaged no matter where they see your ad.

Agencies

–

Most advertisers rely on a performance marketing agency (like admiral.digital) to carry out their digital marketing campaigns throughout the year. Performance marketing teams then tweak and adjust ad placements, budgets, and creatives on an ongoing basis to maximise performance KPIs.
How do performance marketing platforms work?
Each advertising platform has their formula for how and when ads are displayed on their pages. These are some of the main criteria that ad platforms use to determine ad placement:
Campaign goals

 – Selecting campaign goals for each ad campaign will determine what metrics should be tracked for performance and how ads are placed. The most popular campaign goals include brand awareness, website traffic, social engagement, lead generation, conversions and sales.

Target audience

 – Ad platforms allow you to create audience segments in order to target specific audiences based on demographics, behaviours, interests, psychographics and other criteria.

Bidding

 – Advertising platforms allow advertisers to bid for ad placements directly. Bids are made on particular actions including clicks, impressions, conversions, or views.

Quality or Relevance score

 – Ad platforms evaluate the effectiveness of an ad compared to competitors' ads based on various signals and issue a quality (Google Ads) or relevance (Facebook) score. Generally, ads with higher scores will be prioritised over lower scores, however bid price plays an important rule in ad placement as well.

Conversion Rate – Since publishers only get paid when a user completes a specific action, conversion rates are also factored into ad placement algorithms. Ads that have higher conversion rates will be preferred as they will generate more revenue for the publisher.
How do you measure performance marketing?
Advertisers only pay when particular actions are completed by users. These actions thereby become performance metrics that agencies monitor. Below is a list of the most commonly tracked performance metrics:
Cost-per-click (CPC) – Accrued amount paid for each click on an ad
Cost-per-thousand impressions (CPM)  – Bidding method where payment is made per 1000 impressions
Cost-per-lead (CPL) – Accrued amount paid for each lead on an ad
Cost-per-action (CPA) – Pay for a specific action such as a transaction (cost-per-order), sharing contact information, visiting a landing page, etc.)
Cost-per-sale (CPS) – Pay when a sale is made based on the ad, typically used in affiliate marketing (explained below)
Cost-per-install (CPI) – Amount paid each time a user installs an app
What are the 5 main performance marketing channels?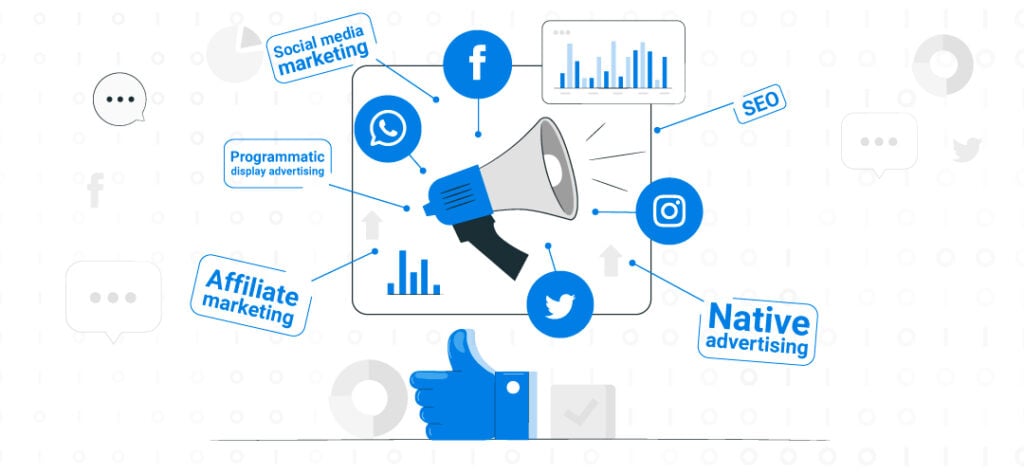 Programmatic display advertising – Banner advertisements in the form of images or video on a particular website. Creativity when making banner ads is important as the ads must catch a user's attention while they're viewing other content. For a more in-depth look, check out our practical guide to programmatic display advertising.
Native advertising – Advertising that blends into a 'native' or another website so as to resemble content the website would typically publish.Comes in the form of suggested articles that capture customer's attention based on their perceived interests. These ads typically avoid hard selling products or services and instead rely on building leads for retargeting ads.
Search engine marketing (SEM) – SEM is a form of native advertising centred around search engine result pages. Ads come in the form of sponsored search results that look similar to organic search results, but are clearly marked as ads. Advertisers bid on particular keywords so that their ad will be shown when users are looking for related products or services.
Social media marketing – Most people have at least one social media account, making social media marketing an effective paid advertising channel to reach a massive audience. Each social media platform attracts a different audience depending on its purpose. The most popular social media platforms include:

Facebook

Youtube

Whatsapp

Instagram

WeChat

Tiktok

Affiliate marketing – This type of marketing involves placing ads on a 3rd party website such as a blog and paying a commission per sale. Advertisers can enter affiliate marketing agreements with either individual websites or affiliate networks such as Affiliaxe and Clickbank. Affiliate networks then distribute the ads throughout the numerous websites they control. For a more complete picture of affiliate marketing, read our beginner's guide.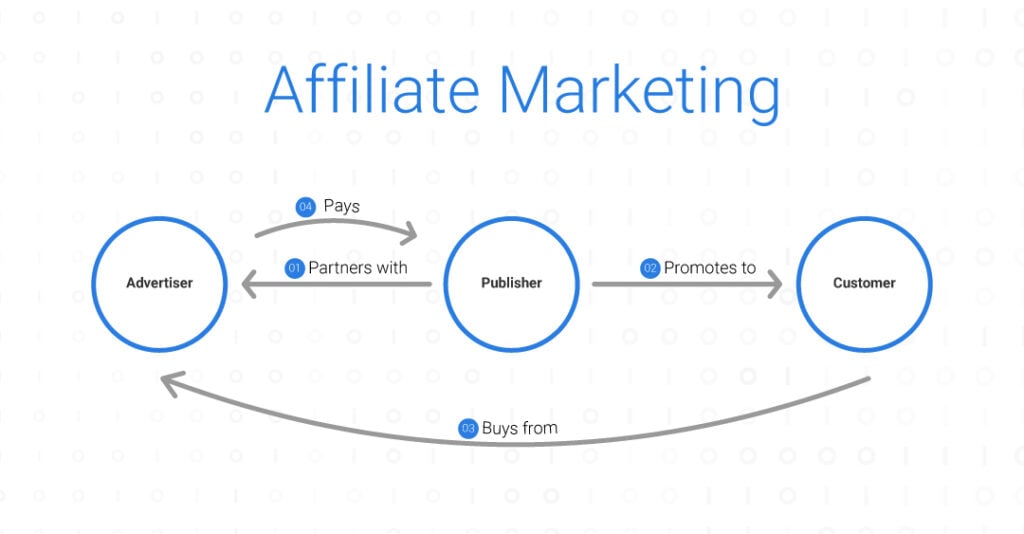 How do marketers determine whether a business is ready to use performance marketing?
Any type of business can start a performance marketing campaign, whether it's selling consumer goods or offering professional services. However, not every type of performance marketing channel is appropriate for every company. The Performance Marketing Institute lists several factors that would make performance marketing more or less appropriate for a business. 
Audience distribution – Businesses with a national audience can benefit from performance marketing to reach as many potential customers as possible. If the audience is more localised, affiliate marketing and native marketing isn't as effective as search engine marketing or social media marketing, as they are geared more towards national audiences.
Existing online sales – Ecommerce companies that already have online payment systems in place are more capable of facilitating a high volume of transactions that will take place as a result of a successful performance marketing campaign.
High monthly sales revenue – Due to the cost of performance marketing, businesses should have a relatively healthy revenue stream. This is to ensure they can afford the startup and ongoing expenses that campaigns will incur.
Active with other digital marketing channels – Rather than starting from scratch, it's best to have an ongoing search engine optimisation (SEO) and pay–per-click (PPC) campaign. That way the business is equipped with a decent amount of analytics to make prudent performance marketing decisions.
Set policies and procedures – For ecommerce websites, having a return policy and procedure will build trust for customers and therefore affiliate marketing publishers will be more likely to work with the business.
Performance Marketing Tips and Best Practices
Whether a beginner or expert, these performance marketing tips and best practices will help any marketer refine and evolve their digital marketing strategy.
Experimentation is Essential
To get an accurate picture of what is working and what isn't, ads should undergo a process of A/B testing. A/B testing is when 2 ads are created – the second one being a variation of the first, for the purposes of testing and measuring. Be sure to have a specific variable in mind to test. For more information on how to conduct a proper A/B test, read our previous blog article.
Cast a wide net
Although performance marketing is a bottom-funnel strategy focused on customer acquisition, it can sometime narrow the keywords brands bid for. Bottom-funnel keywords such as branded terms or specific features are great for converting the most relevant customers, however top-of-funnel is where brand awareness lies. Brand awareness leads to more attention by new audiences, thus increasing the potential customer base of a brand.
Create an irresistible landing page and offer
Since customers that click on ads end up on the advertiser's landing page, the landing page itself must be designed to convert. Landing pages should be attractive and compelling, with the offer being one that a customer is likely to take advantage of. If a landing page drives high conversions, affiliate marketers will more likely display the corresponding ads to generate more commission for themselves. Remember, advertisers pay a fixed commission rate for each product sold by the affiliate's page. While testing landing pages, an overall look at the customer journey will help marketers optimise the entire sales funnel.
Work with reputable publishers and affiliates
If traffic for your products is coming from dodgy sources, it can have a negative impact on how customers perceive the brand. Work with reputable publishers with solid track records to avoid negative publicity.
Track and Monitor Data
Besides performance metrics, all data points are important to collect and reflect upon. Most businesses lack the capacity to hire a dedicated performance marketer to do this, that's why they hire agencies like us.
According to Webstrategiesinc, 72% of marketing budgets went towards digital marketing channels. That's evidence that performance marketing is not only growing, but is one of the most preferred methods of advertising for businesses in the modern era. However, this article only presents the basics of performance marketing.
Any business that is serious about starting a performance marketing campaign should leave it in the hands of a performance marketing manager – like the experts at admiral.digital. It's our bread and butter.